About Us
Naples Harley-Davidson under New Ownership!
Fort Myers, Florida – January 10, 2018 — — Naples Harley-Davidson and Naples Harley-Davidson have been purchased by the Veracka family and their managing partner, Robert Huguet. The Veracka family has been in the Harley-Davidson business since 2003, owning and operating some of the largest dealerships in the country. Huguet, born and raised in Miami with nearly 27 years of combined experience in retail and the motorcycle industry is the first partner with The Motorcycle Company, the Veracka family's management company. Most recently, Robert's been Sales Director of The Motorcycle Company, overseeing 5 of the top 10 Harley-Davidson sales departments in the country. The Veracka family and Huguet are excited to continue the Naples Harley-Davidson / Naples Harley-Davidson / Scott Fischer Enterprises legacy of delivering a world class Harley-Davidson experience at the stores with a great selection of Harley-Davidson motorcycles, clothing, parts, accessories, and awesome events!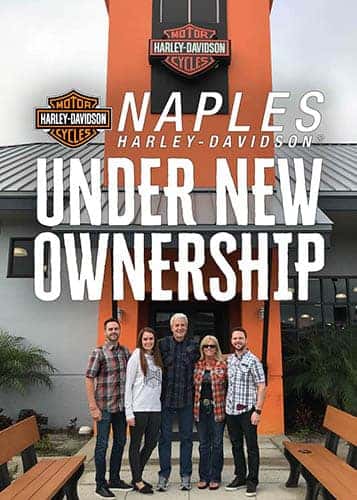 "Naples Harley-Davidson owner Scott Fischer has done a great job for decades building both a community of Harley riders in SW Florida as well as a great business that we will continue to develop for many years to come. Our company was founded by riders, built for riders and we are committed to passing that passion along to others from coast to coast. The newest additions of Six Bends Harley-Davidson and Naples Harley-Davidson expands our footprint in south Florida alongside our sister store Palm Beach Harley-Davidson in West Palm Beach, FL to continue growing Harley-Davidson ridership in Florida" says company owner, Michael Veracka.
"Naples Harley-Davidson and Naples Harley-Davidson are the epicenter of the Harley-Davidson riding community for Southwest Florida. Look for more bike nights, more group rides, open house parties and charity events. We will have 100's of new & used Harleys on-site, along with an expanded selection of Parts, Accessories and clothing. In fact, we have already started shipping truckloads of bikes from our stores across the country to immediately have a larger selection for our customers when we open the doors on January 11th."
Along with the massive inventory expansion, the new owners are currently hiring with plans to add to the already exceptional staff at the stores. The addition to the staff is necessary to achieve their Wildly Important Goal, "To fulfill dreams by delivering a premium customer experience, creating customers for life."
"We're excited to start the next chapter of The Motorcycle Company, allowing our best and most talented managers the opportunity to partner and own their own dealerships. It's an honor and privilege to be able to partner with Harley-Davidson to allow our managers to achieve their life-long dreams of owning and operating their own Harley-Davidson stores and serving their Harley-Davidson community. We're going to see some great things in the future as these new owners deliver a premium customer experience to our current Harley-Davidson riders along with bringing new riders to the sport of motorcycling! This also gives opportunity to our current staff at The Motorcycle Company stores to be promoted from within, as well as bring other industry pros into our organization" Veracka proclaimed.
It's the end of an era and the beginning of a new standard for the Harley community in SW Florida. Exciting times!
The Veracka family's group of Harley-Davidson stores, known as The Motorcycle Company, consists of High Octane Harley-Davidson, Billerica, Massachusetts, Rawhide Harley-Davidson, Olathe, Kansas, Avalanche Harley-Davidson, Golden, Colorado, Riverside Harley-Davidson, Riverside, California, Huntington Beach Harley-Davidson, Westminster, California, Palm Beach Harley-Davidson, West Palm Beach, Florida, and is pleased to add Naples Harley-Davidson, Fort Myers, Florida and Naples Harley-Davidson, Naples, Florida to the family. Visit www.sixbendsharley.com and www.naplesharley.com for more details.
VIEW CURRENT INVENTORY VIEW PRE-OWNED Inventory
CONTACT US